Special Offers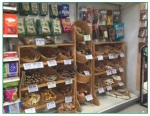 Our North Store has plenty of Dog Treats your canine friend will LOVE!
Valid 11/26 - 12/02/2015
Videos
Exotic Excellence: Mazuri Feed Building New Successes
If your idea of pet nutrition means just dogs and cats, you probably haven't heard of the Mazuri® line of animal feed by Land O'Lakes Purina Feed. But if you work with exotic animals, or perhaps even raise crickets or chinchillas, then you've definitely heard of Mazuri.